Hardwood floors look amazing in your home. But how do you impress your guests years down the line with that same "WOW!" they had when you first got your floors done?
These floors are special, and require special maintenance to keep them looking new. Most of this maintenance involves avoiding certain methods of cleaning that you're used to. I've also given you ways you restore minor scratches & bumps.
Wo without further delay, here are 6 things to remember if you want to make your hardwood floors last.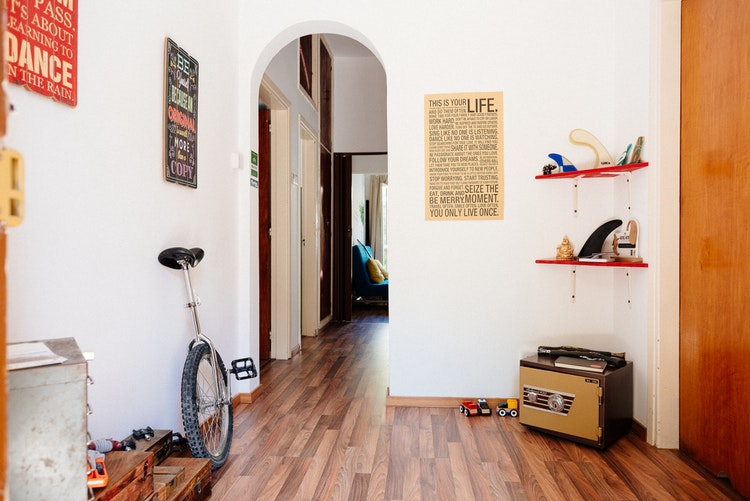 Keep Your Hardwood Floor Moisture Free
Moisture makes hardwood floors soft and vulnerable to damage. Hardwood flooring is pre-treated with either wax or polyurethane. Neither of these treatments do well when exposed to moisture.
If you've been cleaning your hardwood floors with water—even if it's only occasionally—stop now! The best ways to clean your floors is with a vacuum cleaner, a broom or a duster.
Now this isn't always going to get tough dirt off, so it's important to clean up spills and accidents immediately after they happen. If something is stuck to your hardwood floor, read on for tips on how to remove it.
How to Maintain Your Hardwood Floor
Have you noticed a clouded look on some areas of your hardwood floor? This is not the result of your hardwood fading. It's nothing more than an accumulation of scratches—and these are easy to fix.
So before you call a hardwood floor restoration specialist, grab a few items and I'll show you how to get your hardwood floor looking great again. This also works for tough or sticky dirt on your floor.
Lightly sanding your floor down will remove scratches and stains. Once the blemishes are no longer visible, simply treat your floor with a wax or polyurethane finish (ask your hardwood floor vendor for the appropriate finish type).
Your floor will look new again and all blemishes will become a distant memory.   
Live More Carefully on Your Hardwood Floor
It's good to always be conscious of the fact that you have hardwood floors. Little habits can save you from multiple bumps & scratches, so be mindful of the following:
Be careful when moving furniture

Keep your couch & table feet on furniture coasters—especially for heavy furniture

Check your shoes for stones and debris when you step inside

Clean up spills speedily

Vacuum your hardwood floor regularly
Get the Right Hardwood Floor Attachments
Not all vacuum cleaners are designed for hardwood floors, but most of them do include attachments for cleaning them. Read up on the best canister vacuum reviews and comparisons to find the perfect device for cleaning your hardwood floor.
Avoid Using Regular Wax on Your Hardwood Floor
Even though regular tile wax will give your hardwood floor a temporary shine, it's best to use either a special hardwood floor varnish or poly-solution. Regular wax won't protect your hardwood floor, so don't let that shine deceive you.