A dining room is the heart of a home. It is a space where family and friends gather over food, life, gossip, and of course – all things fun. This statement being said, a dining room must always play and look its part!
Now, whether you're entertaining friends or inviting family home, this space should be in place to 'impress.' From modern to industrial, traditional to contemporary, whatever the dining design aesthetic may be, one's focus should be on making the whole experience better when you are playing host.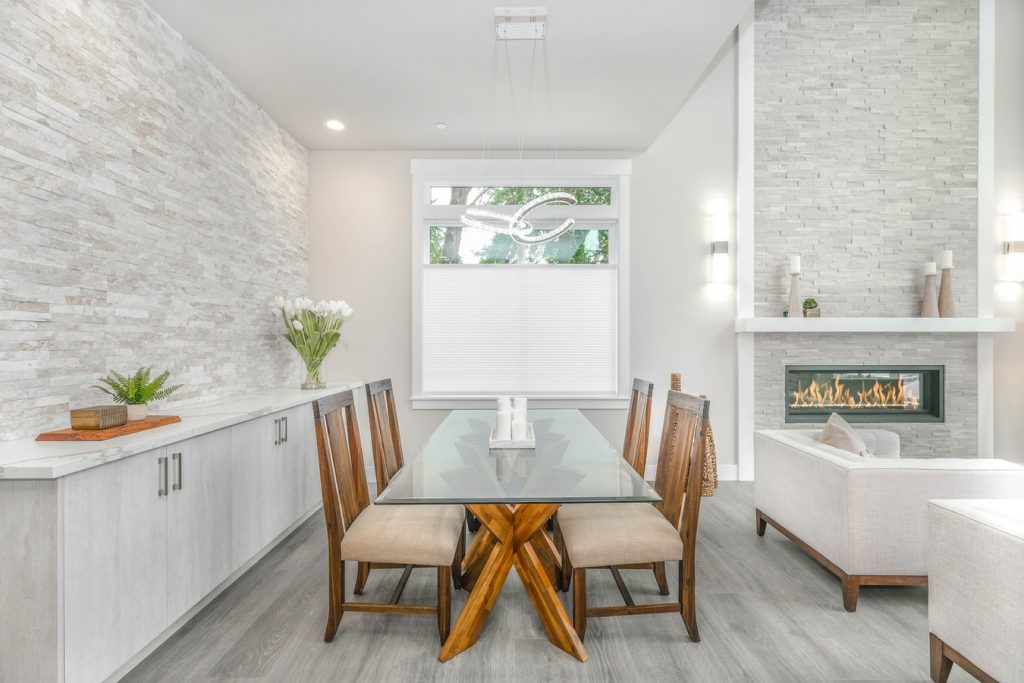 There is a lot you can do with space and take your room's aesthetics to another level, be it in selecting clean-lined dining room furniture, paying attention to the dining room wall décor, or whether giving your dining room a complete makeover or adding just a few essential upgrades like a sideboard or a pendant. The possibilities are endless – offering you opportunities to add personality and charm to space.
If you are looking to puff new life into your dining area or completely renovate your space, these unique dining room ideas should help you get closer to an elegant, functional room for family, meals, and entertaining. So, check out the following dining room decor ideas if you're looking to spruce up space for a special gathering or simply to treat yourself:
Dining Room Walls: If you've had enough of neutral walls, adopt a more daring hue. You can opt for mint green walls, a great complement for a slew of colors like white, beige, and teal. For an electrifying look, explore with pastel hues in a dining room – it can never go wrong, and in fact, you can blend in a lot more elements when the overall color palette is neutral. Metallic print wallpaper in contemporary and realistic patterns brings light into the dining room and highlights your lighting fixtures – a bold choice, but it adds a lot of drama to space. If you love stripes, add them to your dining room wall – bold horizontal stripes can make a petite dining space look larger and give the illusion. A photo painting on the wall can make your dining room look as if it goes on forever; you can add a soothing beach scene mural that gives guests a relaxing view to enjoy with lunch. Treat your mural as an accent wall, pulling colors for your decorating palette. Lastly, we know that dining rooms have four walls, but did you know that there's a fifth wall to decorate? The dining room ceiling is an important part of your decorating plan; give it equal importance when it comes to wall decor.
Pay attention to the dining table's centerpiece: Go in for a combination of rich red candlesticks and lush greenery for a sophisticated dining room look. If you want your dining table decor to be the focal point of the room, a collection of urns or vases will do the trick. Try adding a petite plant of rosemary in a pretty ceramic pot with added moss on top – you will be all set! To bring color into space, colorful leaves from the yard are another great solution- all you need to do is throw them into a simple, white pitcher, and you've got a centerpiece that should last up to two weeks with over-burdening you. Candlelights are the optimal exposure for a meal – vintage candlesticks serve as a statement-making centerpiece.
Gallery wall Delight: A rich gallery wall or dining room artwork can bring an element of personal style to the dining room. The wall can also be used to introduce color and pattern in contemporary dining rooms that are clad largely in neutral hues. If you want to add personality to your dining room space: think of a gallery wall featuring botanical-inspired prints; this theme will instantly add warmth to space. Remember: when it comes to setting up that perfect gallery wall, stick to all-white frames for an elegant, cohesive setup, and your most significant piece of artwork should have a background color that matches the wall color.
Pendant Drama: You may often wonder – what is the best lighting for a dining room? Well, firstly, you should base your lighting around the dining table, and secondly: if using a single pendant in the dining room, make sure it draws a statement and takes all eyes to the ceiling. Playing with scale is one of the easiest ways to boost visual interest in a room, so the bigger the dining room – the bigger the pendant that hovers the dining table. Apart from pendants and vintage chandeliers – you spruce up space with rope-textile light fixtures – the new trend for this year. Then again, want something that looks fancy but won't actually make holes in the pocket? Try a paper pendant, natural, and one-of-a-kind. And, if you chose to keep your dining room neutral, add in character with a bold drum shade – it never fails to impress but choose one with a subtle pattern, and it'll pop even more. And finally, if your dining room is busy, thanks to patterns, colors, or an impressive gallery wall, opt for a simple pendant or chandelier, chose one that is neutral, clean-lined so that it doesn't look too chaotic
Woven Accents in the dining area: Well, always keep space for woven, rattan, and wicker, especially if you like to bring the outdoors indoors. Adding a macrame to the dining table as a runner is a fine choice – it brings out a touch of boho vibe to space. For extra storage under the dining console, add a few wicker baskets – they are easy to move around and a perfect choice as décor. Woven accents can also be added to the wall if you want to bring texture to the dining room: African wall décor – it's colorful and very artistic. Add a woven accent, like an oversized pendant over the dining table, to bring character into your dining space.
Have you thought about dining chairs?: Gone are the days of matchy-matchy dining sets. Find a table you love and surround it with complementary chair pairings like ornate cane and plush upholstery. Let your creative mind do the set-up! If you wish to create a clean look -especially if you have tiny feet at home, nothing beats transparent dining chairs (advantage: wipeable and stain-free). If you are ready to make a bold move, let your dining chairs set the scene in an unexpected color, a sunny yellow or an inviting fuchsia pink paired with a simple wooden dining table – this look will instantly add drama to space. Your guests won't hesitate to take a seat! Looking for the all-natural or rustic look: add a wooden bench to the dining table and top it with a plush pillow for added comfort.