A flood can be experienced all year yet it's said to be more prevalent during the late winter and beginning of spring.
When excess water gradually gathers around a house, the garage is one of the areas that can get flooded first. Flooding can possibly cause damage to home appliances in the garage. As flooding conditions become more frequent, the more vulnerable your home becomes due to water damage.
The following are some of the ways many homeowners can explore to prevent flooding in their garages.
Install Adequate Drainage
Be sure to install adequate drainage to prevent the drain from overflowing and leading water into your property. Depending on the slope your land has around your garage, the gutters need to be installed outside the garage area to give pathways away from it.
If you adequately address the issue, installing a channel drainage can be more effective. These drains create a smooth flow and then withdraw at a safe distance away from the house.
Also, to be safe, make sure the drainage never directs runoff toward the neighbor's property or towards a public sidewalk.
Use Waterproof Veneers
Home experts recommend using waterproof veneers on the garage's sidewall frames for security. A waterproof veneer creates a seal to ensure that there are no cracks for water to seep in from the outside.
The basement is also known to be prone to flooding. You can find a reliable company to install a waterproof veneer to prevent water from seeping through the garage and basement. Also, tips to make your home more desirable with basement waterproofing can be readily found online.
Consider Having Flood Vents
The ultimate goal is to not allow water near the garage space; yet when there's a heavy flood, most doors lack the strength to withstand the pressure of rushing waters.
Hence, installing a flood vent ensures that the floodwater surge in the garage doesn't stay there for long. It provides a pathway for water to flow unobstructed. It belongs to a class of crawl space vents – your house and maintenance depend on how well your crawl space is ventilated.
Having fully functional flood vents in your house prevents water from rising high enough to reach your loved ones' living space.
Place Effective Gutters
Properly placed gutters are made to eliminate precipitation after it lands on the rooftop of a given property. Broken or ineffective gutter systems can lead to the improper transport of rainwater and its debris. Ensure the gutters are clean and at all times in good working conditions so that there won't be possible leakage concerns leading to rainwater heading directly to the garage.
Perform Weatherstripping Works
Weatherstripping projects work by keeping rain, snow, sleet, and the like out of different spaces like garages. When performed properly by a licensed expert, it creates a tight seal between the bottom of the door and the garage grounds. During light flooding in your community, weatherstripping is enough to protect your garage against water entirely.
However, weatherstripping wears off with time, so it's advised to routinely check it to ensure it isn't entirely worn out. Call if for replacements as soon as you spot gaps around the areas where weatherstripping has been conducted.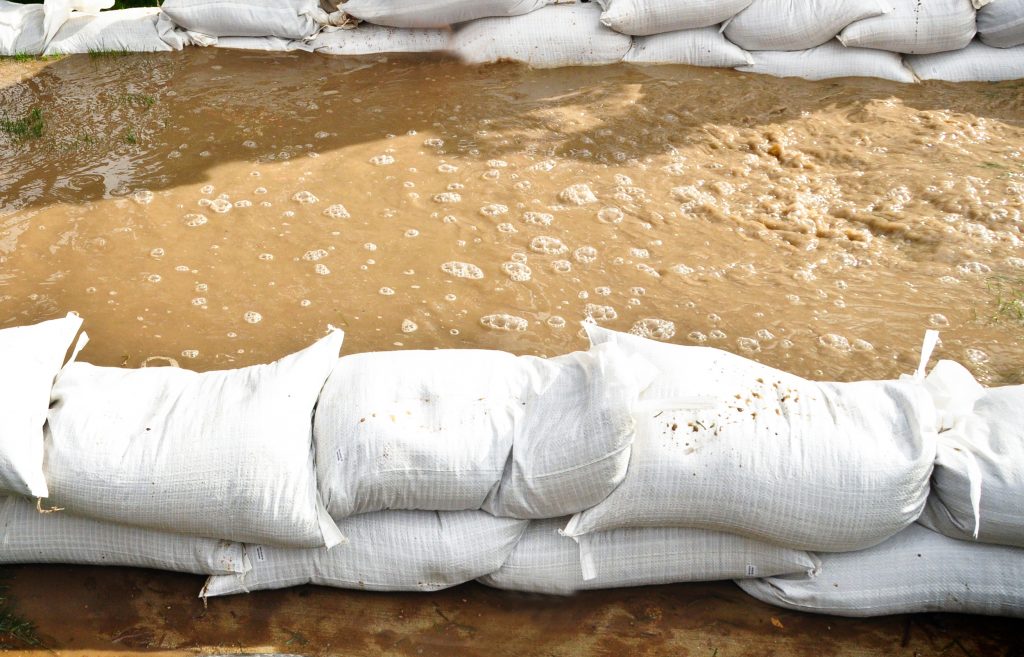 Conduct Routine Foundation Inspection
It's recommended that you regularly inspect your foundation for cracks and any defects that can cause freshwater pipes or sewer lines to burst. Maintaining a good foundation is one of the essential steps that prevent potential garage flooding and prepare your house for natural disasters.
Before the spring season arrives, it's advised that you inspect your foundation for cracks. If the damage is minor, consider sealing them with paints or a concrete patch. Meanwhile, in the event that the faults are major, reach out and work with a contractor in replacing the foundation.
Utilize Sandbags Or Flood Barriers
To avoid dealing with flooding, it's said that flood barriers should be placed around your home. They act as short dams and stop low-level flooding.
An example you can try out is sandbags. When appropriately used, they can redirect flood away from your yard. Line up the sandbags around your property in a sturdy pyramid-shaped wall near the flood zone to avoid floodwater between buildings and causing more damage.
Landscape The Surrounding Land
It's essential to contract a seasoned landscape professional to assess your yard's condition to make sure that your garage or building isn't susceptible to flooding. They can perform a variety of jobs such as smoothing down the ground to combat any rainwater directed to the garage.
Conclusion
Flooding can bring with it a lot of damage. With the help of the above tips to prevent flooding in your property's garage area, you can also call on professional water removal services to safely remove excess water in the aftermath of a flash flood and restore your garage to its previous pristine condition.