Hi my lovely people!  If you are a lively person and want to be surrounded by many colors, then today's article is the right choice for you. Flowers are often times used as home decor elements. They are must have decor idea for vintage interiors, but the good thing about flowers is that they may be incorporated in any interior design. For all lovers of the everlasting flower decorations here is the Blooming Floral Wall Murals That You Will Love To Have!
Enjoy and stay cool!
Incorporated in your home interior, floral wall murals look incredible. The good thing regarding flowers is that they are countless different flower designs that you may copy that everyone may add a unique design. Floral wall murals may look really chic and artistic as in the above picture.
For those that want more simple style, there is a black and white creation shown in the picture below. It is an ultra modern interior that every piece of the decoration makes a difference where the floral wall make the most of the interior design. Check out our following example and get ready to say wow!
If you decide to put floral wall murals in your living room make sure not to exaggerate with the other decor elements. Make it more simple and let the flowers bloom in your home. Enjoy surrounded by the world of buds, petals and bright colors.
Floral wall murals are really good solution for young artist enthusiast. They will brighten up your home and fill it with creative energy. When put in a tile wall it can get a really chic and industrial look.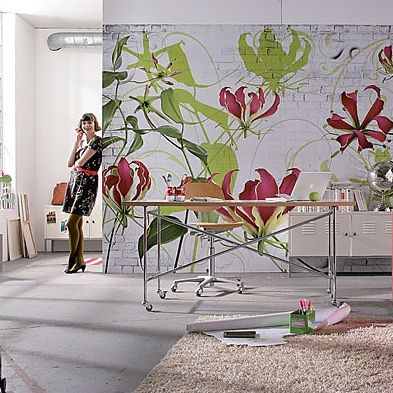 Floral wall murals are great solution for your staircase wall. They will bring a positive atmosphere to your home and brighten up every day>
Check out our cute and lively living room interior in the picture below. It is great for a bachelorette apartment. It is so bright and positive that will catch everybody's eye.
Purple color looks really elegant and chic when incorporated in an interior. Floral wall murals are a great idea on how you van bring the energies of this color into your home. Look at the following example and get inspired to incorporate this beauty into your home.
So, how did you find our floral wall decor ideas for your home? Aren't they lovely? Which one is your favorite? Also, we made this collection to give you great ideas how to redecorate your dream home with something cool and creative. We want to hear from you. Feel free to share your comments with us. Thank you for reading and don't forget to stay up to date with the content of Feel It Cool and find many other great home decor ideas. Until our next post – 'Follow your heart and stay cool!'