Hi my wonderful readers! This is a special creative collection that all ladies will find helpful for their jewelry as these solutions will give a unique approach to this small ladies' problems. So, my ladies, if you are facing with issues every time when you go out and you cannot find your favorite piece of jewelry, it is a high time for you to implement some of these ideas for jewelry organizers. And what is special about these ideas is that you can do them on your own, therefore these would be your own creations. So, let us see them.
Jewelry Cones
I have some good news for you my ladies today! As you may see by the presented examples of jewelry cones, they are super adorable and they can be part of your home as well if you like them. This is a nice solution that will save you a lot of time in finding the right match for you. The good news is that you can easily do them using your creativity with just a piece of paper. The colors will additionally spice up your collection of jewelry cones. Do you like them?
Jewelry Tree Decorative Organizers
If you were to ask me, I would say that these tree jewelry organizers are my favorites! Since they are really good for organizing your small jewelry parts, they are also a nice decorative element to your home. Check out all of the examples that I have prepared for you.
Glass Bottles As Bracelet Holders
And here we have a great craft from glass bottles that you may use for your bracelets. Take your empty lass bottles and use them practically. See below how cool would that look.
Door Jewelry Hangers
Jewelry Display Organizer
Clothes Hanger Jewelry Storage Idea
The clothes hangers would have another purpose and that is to be used as jewelry organizers. So, you may hang your jewelry pieces and make yourself a favor. How does this sound to you?
Wooden Vertical Jewelry Organizer
Vertical Jewelry Displays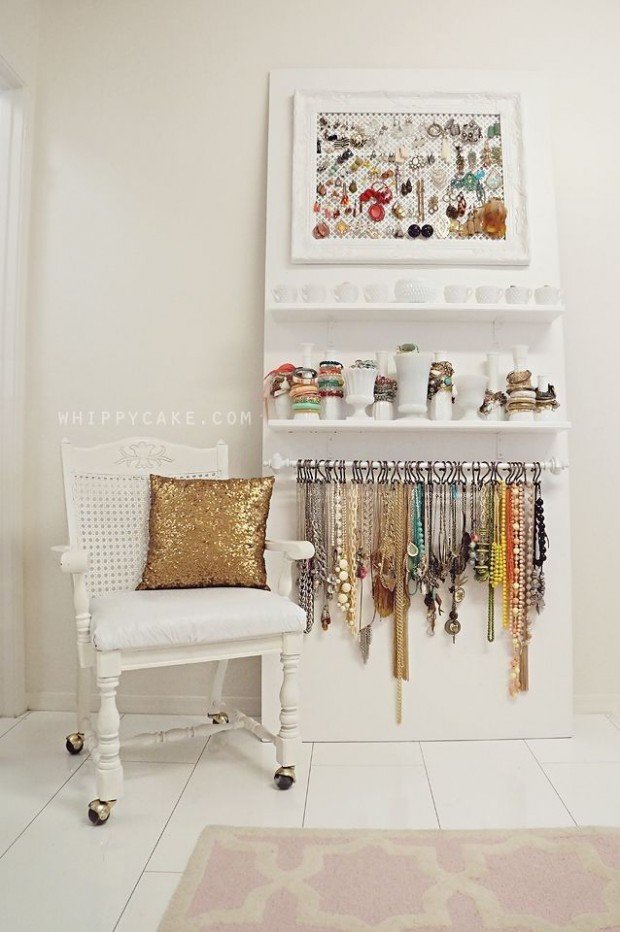 Wooden Pallets Hanging Jewelry Idea
Hanging Tree Branches
Tree branches may also help you in this project. Use the tree branches to make a perfect hanging jewelry idea. See how easy you can do them!
Modern Jewelry Blocks
So, how did you find this collection of jewelry organizers? We have made this collection to give you great ideas on how to redecorate your dream home with something cool and creative. Therefore, feel free to share your comments with us. Thank you for reading and don't forget to stay up to date with the content of Feel It Cool to find many other great home decor ideas. Until our next post – 'Follow your heart and stay cool'