Hey there my beautiful people! Today we will again speak about interior design, but we will focus more on the bathroom interior design. Most of the people neglect the look of their bathroom and they do not invest in the design of their bathroom and all they care of is its functionality. So, my dears, we will now try to shift the mind of that group of people and proof them how important the look of their bathroom is actually. Therefore, check out the following great examples of wonderful Elegant Bathrooms With Wood That Will Make A Statement! Enjoy in this beauty!
Elegant Bathrooms With Wood
Although the interior with black tiles and woo may look masculine, it is very sophisticated on the contrary and many people decide to implement it. Thus, you will feel classy and unique in such interior. You can think also on installing vynil flooring like here for more charming and luxurious look.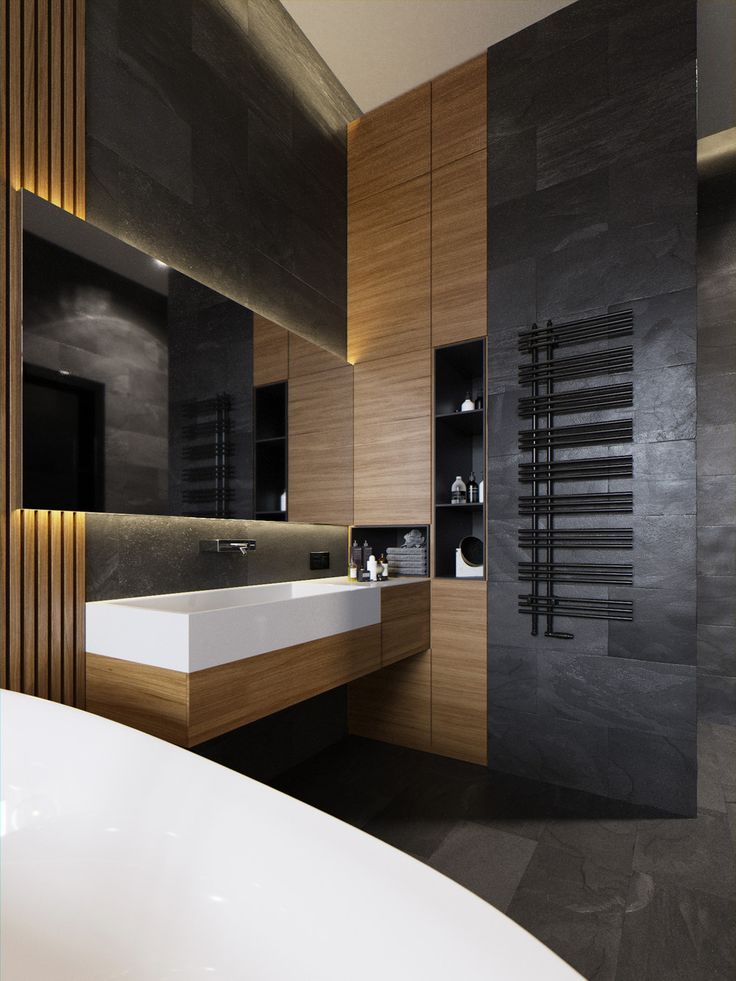 Image via:
relooker-meubles.fr
Can you imagine what you will get if you combine these three – wood, stone and tiles? To boost your imagination, check out these marvelous bathroom design below.
Except for being great in its looks the wood shifts the atmosphere to more warm and inviting, so you will enjoy every time you enter in such bathroom with wood.
The light wood interior will get you to another great atmosphere as it will give you a lighter atmosphere.
This is a cabin bathroom that looks authentic since it is filled with many wood pallets. It creates a natral environment that will make you enjoy your time spent in this room.
This is our favorite piece of example that we want to present you. It is about a dark bathroom interior, but made with an awesome creativity and incredible design. So, how do you find the following idea? Isn't it marvelous?!
So, how did you find this collection of bathrooms with wood? We have made this collection to give you great ideas on how to redecorate your dream home with something cool and creative. Therefore, feel free to share your comments with us. Thank you for reading and don't forget to stay up to date with the content of Feel It Cool to find many other great home decor ideas. Until our next post – 'Follow your heart and stay cool'