Hi cool people! Christmas is coming and it will bring many magical moments along the way. This shiny and warm holiday is an inspiration for everyone. In the name of this holiday we prepared for you a superb collection of Eye-Catching Christmas Fairy Lights Decor Ideas for Magical Moments in Your Home. They will caught everyone's attention and make your Christmas even more enjoyable. As they are called fairy, they will bring the magic into your home. So, prepare yourself and try to decorate your home with this ornament beauties.
And always remember to stay cool and enjoy!
Christmas Fairy Lights Mason Jars
Mason jars are the absolute favorite decor element for this season. They will also perfectly fit in your Christmas decor. As you will see from the following examples, it is really easy to make a Christmas lighted mason jar.
Christmas Fairy Lights Lantern
Christmas Fairy Lights Fish Bowl
Fish bowls are a nice decor element and if you add them some Christmas fairy lights, you'll get a magic bowl. How cool is that?!
Glitter Fairy Christmas Lights Canvas
Christmas Fairy Lights Mirror Frames
Your mirror frames will get a whole new look this Christmas. They will show your shiny nature and inspire you to make even more creative things.
Christmas Fairy Lights Curtain Decor
Who doesn't want a fairy bedroom? The great news is that you can have it on your own. All you need is just bed curtains and Christmas fairy lights. You'll get in the world of magical beginnings. Keep the magic in your heart and home and you'll be amazed from your perfect life.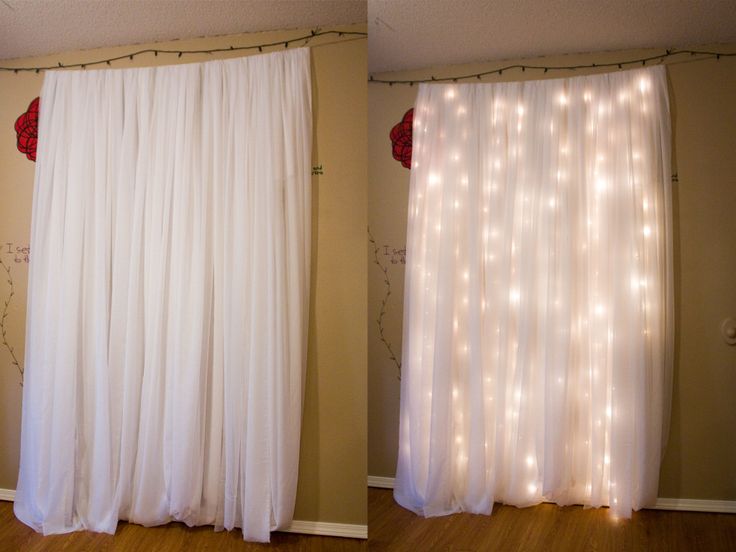 Image via www.marky.com
Home Office Christmas Fairy Lights Decor
If you have to work for the holidays, doesn't mean that you have to feel tired and depressed. You can create a warm atmosphere with a little Christmas lights decor and make your home office shine. You will be highly motivated and ready to work in your new environment.
Christmas Fairy Lights Chandelier Decor
Take a look at the following Christmas fairy lights inspired chandelier. You have Christmas lights cords wrapped around your old chandelier. Get prepared for the upcoming holidays and enjoy the family dinners with your dearest ones.
So, how did you find our Christmas fairy lights decor ideas for your home? Isn't they lovely? Which one is your favorite? We want to hear from you. Feel free to share your comments with us and don't forget to subscribe to our newsletter that you will easily find on our Feel It Cool website. Also, we made this collection to give you great ideas how to redecorate your dream home with something magical, cool and creative. Thank you for reading and don't forget to stay up to date with the content of Feel It Cool and find many other great home interior ideas.