A table saw is the most important tool that you will buy for your woodwork shop. Therefore it is vital that your cherished tool lasts long for you to make your future masterpieces. Read on to find out how to make the most out of this essential equipment.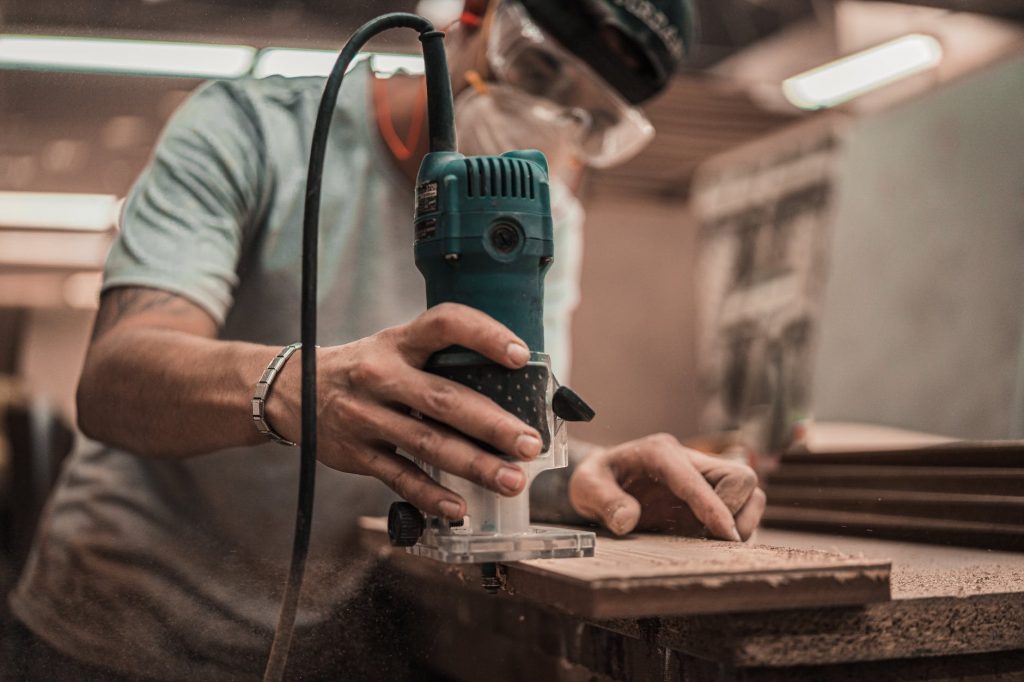 Select The Right Blade and Blade Height
The right blade is necessary to cut the right material. Whether you are cutting plywood or melamine, the blade can have a huge impact on the final product. The most common blades are the crosscut with 60-80 teeth or rip cuts with 30 teeth, each equipped to saw through a specific material. If unsure of which one to use, go for general purpose 40-50 teeth.
Since the table saw is the heart of any woodworking shop, it would be smart to invest in one best suited for your needs. Click here for a helpful guide on the best available table saws in the market.
Set Up an Extra Set of Hands
A Featherboard makes for a great extra hand to align a board to the fence to make smooth cuts. The wooden 'fingers' grip the wood tightly to push through the fence.
Though large saws have a table support, this is not the case for small portable saws. This makes them more likely to be unstable when the material comes out of the saw. An extra set of helping hands can distribute weight evenly so the saw doesn't tip over.
Invest in a Simple Outfeed Support
Large workpieces should never be handled alone. However, if you have to do it alone, an extendable roller stand can increase your table saw's reach. Make sure to set up the rollers at the correct height perpendicular to the saw to avoid kickbacks.
You can make a temporary outfeed table with clamps, two 2x4s and plywood. Keep in mind this works only with large table saws with iron or steel table, bench-top saws which can tip or bend are unsuitable.
Ensure Plenty of Space
This is extremely important for both the safety and comfort of your work. Ensure that there is at least 4" on either side of the blade and 8" on either end. Adequate working space will help you work effectively and prevent accidents.
Keep Out The Rust
There's nothing worse than working on a rusted table surface for a woodworker. Not only does the surface become uneven but the bumps can cause serious kickbacks and ultimately ruin your hard work. Here are a few time-tested tricks to keep your cast-iron table free of rust and keep wood piece neat.
Clean Tabletops Make Clean Cuts
In order for your wood to have a smooth finish, your tabletop must be clear of sawdust, chips, and debris. Vacuum the table surface and then apply spray lubricant or wax paste. Keeping your tabletop clean will ensure there are no bumps when cutting wood.
Align the Blade
Remember to keep the miter shot is parallel to the blade and fence. You can do this by ensuring equal distance between the slot and both sides of the blade with the help of a dial indicator gauge. Repeat the same with the fence. A properly aligned blade will ensure smooth, burn-free cuts.
Make Use of a Dado Set
Joinery cuts using a table saw might seem unlikely but with the help of a dado set, dadoes, grooves, tenons, locked rabbets, box joints, and tongue-and-grove joints, it becomes a piece of cake.
Adjust the thickness of the stacked blades to your desired cutting width with the chippers, thin paper, or metal. Read more here to find out the best dado sets available to make your woodworking flawless.
Clamp on a long fence for Longboards
As already mentioned before, working with long wood pieces alone can be a challenge. The wood can easily veer away from the fence leaving your cut ruined or having to deal with burn marks. To prevent such disasters, use a pipe clamp or a long straight board to the fence to keep the wood steady.
Set up a Dust Collection
For a clean tabletop and a cleaner working environment, there's no alternative to dust collection. The dust generated from hours of cutting is not only detrimental to your saw's performance, but it is also harmful to your lung health.
Whether you use a portable dust collector or cyclone collector, keep your miter lots clean and help run your motor run cooler than usual.
Sliding jigs to cut narrow strips
Sliding jigs help you make even, narrow strips without needing to remove the blade guard or fence for every cut. To the end of a 4ft 1×6, attach a strip of wood thinner width than the rip cut, then hold it against the board to push the jig. For a better grip, attach a handle to the end of the jig.
Level the throat plate
To preserve the cut of your wood, align the throat plate to the saw's tabletop. First, clean the debris from its opening then place the straightedge over its top to check whether the plate is flush. If not, adjust the height using the adjustment screws as necessary.
Add a fence to the miter gauge for smoother crosscuts
As most miter gauges have narrow edges, it becomes difficult to maneuver wood when making angled cuts or other crosscuts. To solve this problem, simply screw a straight wooden piece to the miter gauge holes.
To avoid kickbacks and binding, always push the wood and fence completely past the blade when cutting. Then turn the saw off before removing the cut pieces.
Regular Tuning
No machine can work long without proper maintenance and the same applies to your table saw. To improve the longevity and performance of the most important tool in your woodwork shop, make sure to have them regularly tuned.
Safety First
Last but not least, and the most vital part of any line of work is maintaining workplace safety. This especially applies to the sharp cutting table saw. There are countless horror stories recounted by multiple woodworkers about missing fingers, hands, or worse. However, a little bit of caution goes a long way to prevent life-threatening accidents from happening.
When your wood is within a foot of the blade, it is time to take out the push stick which keeps both the grip firm and lets you push the piece through. Furthermore, never remove the blade guards when the table saw is on.
Remember, a ruined cut may be salvageable but your fingers may not.
Conclusion
Hopefully these helpful tips from experienced woodworkers will allow you to use your table saw more efficiently. With good maintenance and care, your table saw will cut many of your finest workpieces to come.