An engagement is a big day in every bride or groom's life. But the initial excitement after the proposal often turns quickly to stress once the elaborate planning process begins.
There's a lot to do from decorating, inviting guests, choosing the wedding party's attire, and arranging travel and accommodations. And if you need to reschedule your wedding because of the pandemic or any other reason, you'll likely face a few curve balls like vendor cancellations or changes at the venue.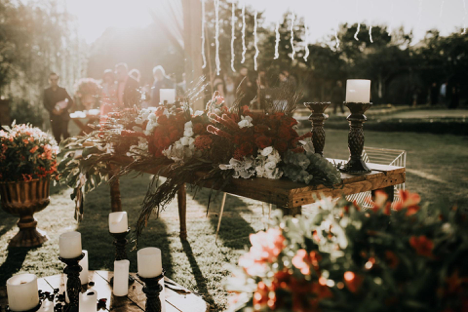 However, there's plenty you can do to destress when eloping starts to feel like a better choice than continuing the planning process.
Take Pressure Off Yourself to Find "The Perfect" Dress
Wedding dresses come in all shapes and styles, and many brides feel the pressure to find the perfect gown that fits their body just right and matches the aesthetic of the occasion. But don't let your high expectations—or anyone else's—keep you from enjoying the wedding dress shopping experience.
To make the ordeal less stressful, turn your dress hunting into fun outings for you and your wedding party and other loves ones. With some champagne and appetizers, trying on gowns will feel more like a celebration and less like an assignment to find the perfect dress.
Take Breaks from Planning
Don't rush to plan your wedding in just a couple of weeks because, in truth, it's a months-long journey. Especially if you have a long engagement and are planning a sizable ceremony and reception, take breaks to help you calm down. Plan a day out with friends, go out for lunch with loved ones, or take a day break to pamper yourself.
For example, you can spend a day soaked in aromatherapy or an excellent spa treatment. Dating your fiance is another cool way to break free from all the wedding stress. Spend the night under the starry sky dreaming about your future life together, without discussing the logistics of the ceremony itself.
Unplug from Social Media
While social media is full of wedding ideas and an excellent resource to take inspiration, watch out if you're spending too much time on Pinterest or Instagram; understand that what you see might not be a reality, so manage your expectations.
If too many ideas make you overwhelmed, it is time to unplug from it and take a break. Switch off your phone and laptop and do something else. Pick a book and read or go out for a walk. Remember, social media can give you ideas but if it becomes a reason for stress, shut it down.
Avoid Overbooking
While booking your planner in advance is a way to manage all the tasks well, overbooking can be a killer. So, learn to identify which tasks are essential and chuck out the ones that make no sense. For example, if visiting a family member for lunch can add to your stress, learn to say a no. Also, try to space out your planner so that you have time to breathe and relax.
Ask for Help
Delegate tasks to the bridesmaids or ask your friends for some little help. There are people who love you and would be happy to do something for your wedding, so take their help. If you're a relentlessly independent person or a perfectionist, it seems to be an added effort to delegate a task, but take that effort to save yourself from breaking down from stress.
Don't Skimp on Sleep
Avoid staying up late at night or skimping on sleep just because you have a lot to do. You don't want to fall sick before your wedding, do you? So, sleep well and be rested. Sleeping well will also help you to stay calm while planning.
Treat Yourself
Your wedding day will likely be one of the happiest days in your life, and you should feel good about it. So, treat yourself to a favorite meal, do your nails, or simply drop everything and get some good sleep. Keep your mind and body happy. Enjoy life and treat yourself when you check items off your to-do list.
The Bigger Picture
Planning the most significant event of your life can quickly become overwhelming. If you're feeling bogged down by stress and the joy of planning your big day starts to fade, then try these tips to unwind. Remember the bigger picture and lifetime of love you have ahead of you with your fiance and the friends and family who will attend your big day.