What is a kurti?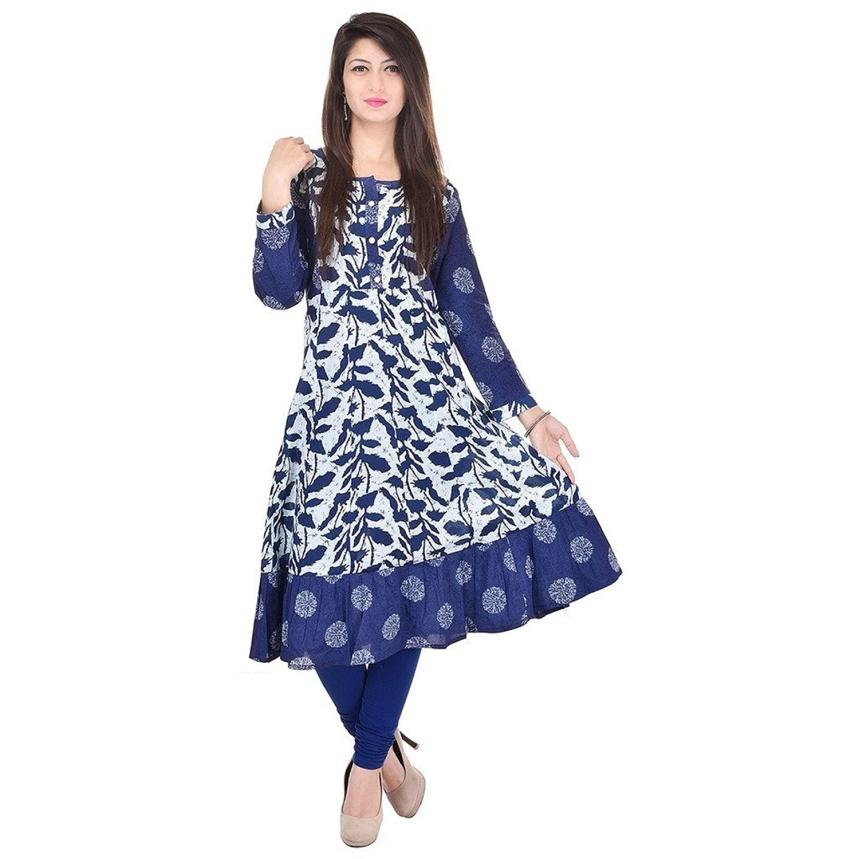 A type of tunic, which is usually knee-length or falls slightly above the knee is paired either with churidar or salwar and a dupatta is usually worn by Indian women is referred to as kurti. It is traditionally worn by females and males in countries like India, Srilanka, Nepal etc. Initially men wore this traditional attire and called it kurta, but nowadays it's common attire for females, which is traditional as well as comfortable. Usually cotton is used to make kurtis to provide the comfort factor. For people of high social standards or when it is to be worn in special occasions silk is used.
Variations and styles-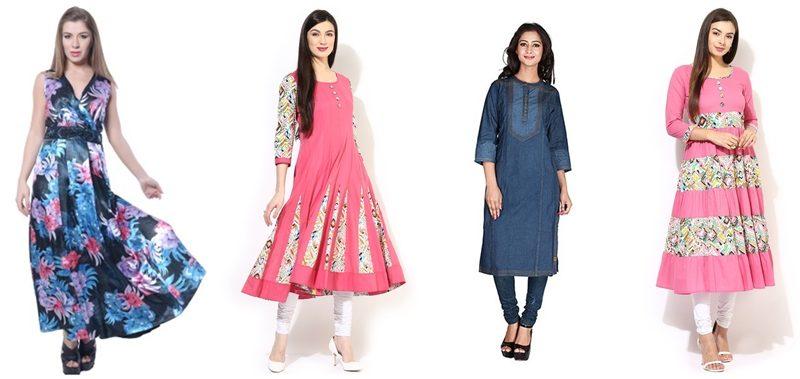 The style of the kurti varies according to the region, state or even season. For instance, a cotton kurti is comfortable for summers and woolen kurtis provide warmth in winters and silk kurtis make you look elegant and graceful in festivals or special occasions. Different fabrics, different styles, different designs and different embellishments provide you with a wide range of options to choose from. Even the length can be according to what you wish: short, medium or long. They can be hand-printed or heavily embroidered. There is some design that meets every girl's desire. Women look ethnic beauties when they pair it with a salwar or churidar and look modest in the Indo-Western look when paired with jeans. Traditionally, men pair it with a pajama.
Trends-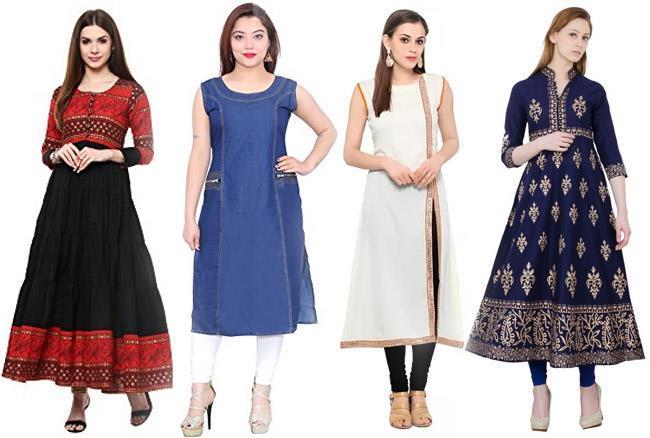 The kurti trend has seen a lot of changes with time. What initially was just restricted to an ethnic look can now be modified in a number of ways. Mirror work, zari work, collars, buttons, stone work and tie dye are some designs commonly noticeable. Recently women are also wearing Kurtis with abstract designs or modern art.
The right pick for every occasion-
When going to office you can go for a simple khadi or cotton kurti, when at home you can wear simple cotton loose kurtis and for traditional occasions you can opt for silk and heavily embroidered kurtis. It enhances ethnicity and elegance of a woman. Nowadays, girls and women are also pairing it with long skirts or palazzo pants, which bring out the Indian look.  They can be accessorized with long earrings in silver or gold. Also, a bracelet adds to the charm.
Versatility-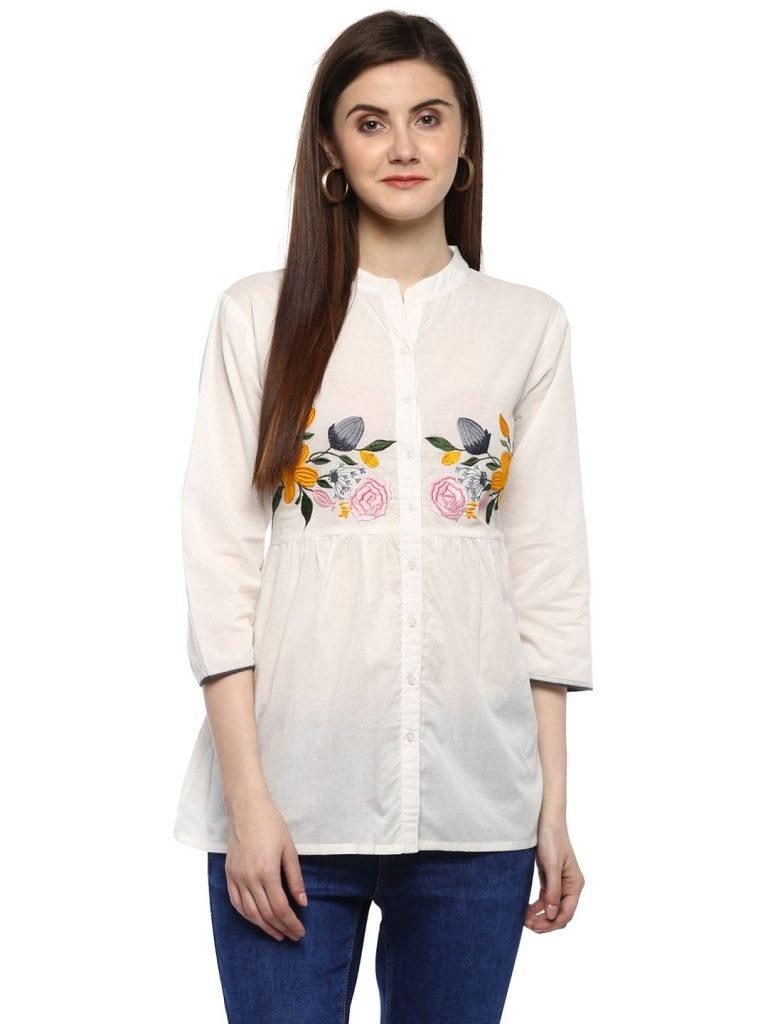 Initially limited to a few countries, kurti is now worn almost everywhere all across the globe and is universally accepted due to its comfort and style.  It can be worn traditional or in a fusion look making it a global attire.
Facts about kurtis-
Kurtis that are worn in summers usually have chikan embroidery.

Indian politicians wear a white kurta.

Kurta's neckline is adorned with buttons made of plastic or wood.

Kurta refers to a "collarless shirt" in the Persian language.
Types of kurti-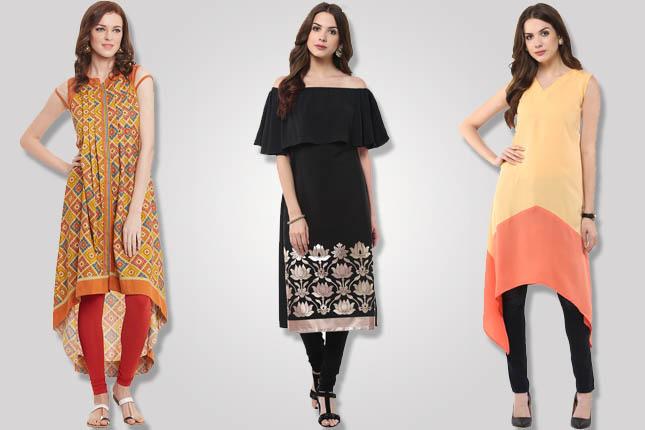 There are different types of kurti both simple and designer. Some of them are:
A-Line kurtis: it seems like the letter 'A'. It is fit at the top and is flared near the ankles or knees.

Gown-style kurtis: it is a long kurti usually paired with short sleeves and gives an authentic look.

Trail-cut kurtis: it is a fashionable kurti. Both sides have C-cuts. Different fabrics like cotton, chiffon and silk are used to make these kurtis.

Tail-cut Kurtis: gorgeous and trendy Kurtis with a lower back or front making it look like a tail when seen from the different side.

Long-straight Kurtis: these are elegant straight Kurtis make you look taller and smarter.

Dhoti-style kurti: it is draped from the bodice and has creative designer cuts, can be ankle or knee-length. They can be worn in parties or functions.

Pakistani kurti: these are straight, long and baggy and can be paired with jewelry to give a trendy look.

Printed kurtis: block print, floral print, funky prints, digital prints or old-fashioned prints; a wide variety is available from which you can choose.

Shirt-style kurtis: usually a fusion of eastern and western culture. They can be worn formally as well as casually.

Kaftan-style kurtis: they are kurtis with loose drop sleeves and look truly charming and adorable.

Reversible kurtis: these can be worn from both sides and so can be worn from both sides.  
Why women love wearing Kurtis?
Cost-effective:

 

depending on the material and design, the price varies, but simpler ones don't cost much.
Global pick: it is well accepted universally and thus, can be worn almost anywhere and on any occasion.
Comfort: they are very comfortable, almost like paradise for girls and women.
Variations, colors and designs: there are a variety of shades bright and pastel, designs and range of collection to choose from.
Accessories: they can be paired up with simple or funky earrings, bracelets as well as neck-piece along with simple slippers or sandals as footwear.

Customizable: they can be selected according to your likes and you can pair it with whatever you like and feel comfortable wearing.
Kurti neck designs: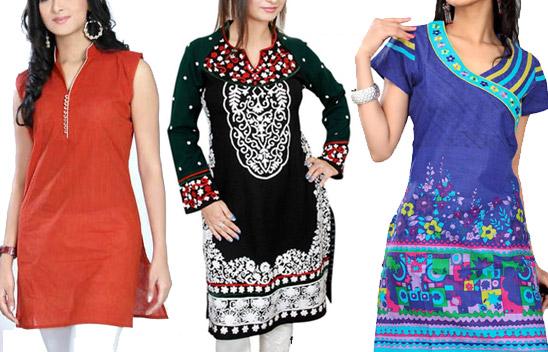 High front neck

Boat neck

Halter neck

V-neck

Chinese collar detailed with buttons

Open flap design

V-neck with collar

High neck collar

Straight embroidered neckline

Scoop neckline

Square neckline

Round neck design

Broad V-neckline

Boat neck with net

Sweet-heart neckline

Neckline with keyhole

Shirt-collar design

Neckline without symmetry

Closed neck design

U-shaped neck

Jewel neckline

Surplice neckline

Raglan neckline

Mandarin design of neck

Crew design

One shoulder design

Off shoulder neckline

Strapless neckline worn with or without a cape
Where to buy Kurtis?
From street shops to big malls, every place is swamped with a wide variety of kurtis of different designs and styles. There are brands that specifically make kurtis of both Indian and Indo-Western looks. There are a number of websites that offer online shopping for kurtis like Stylecaret. Kurtis are available in almost every market you visit because of its high demand. People usually buy a lot of these during festivals and occasions.  Style caret offers an amazing range of kurtis in all designs, prints, styles and lengths.
Kurti is an evergreen trend.