When it comes to building out your summertime wardrobe, it goes without saying that a few swimsuits are a must. But not just any bathing suit will do: you deserve to wear one that makes you feel nothing short of fabulous. Swimsuit shopping is indeed tricky — it requires you to consider your bust line and your overall body shape along with your personal tastes. That said, it's totally possible to find bathing suits that flatter your figure while also showing off your individual style. Better yet, there are also ways to boost your confidence while rocking any bathing suit whatsoever.

Before we delve into how to find these elusive swimsuits, a word on the process: swimsuit shopping should be fun, and it should be about celebrating all of your assets, not hiding your so-called "flaws." If you struggle with your body image, you may find yourself dreading the shopping experience. So, whether you decide to take a bestie with you to cheer you on in the fitting room, pour a glass of bubbly while you peruse some online boutiques or peel through some swimwear ideas on a style blog with your SO, do whatever you need to do to make it an enjoyable experience — one that celebrates your body.

If you feel like you could use a little dose of self-love before hitting the beach this summer, consider these tips for boosting your confidence in a bathing suit.

Focus on fit
More important than the color, print or cut on the bathing suit is the fit. Why? Because a well-fitting swimsuit will hug your curves in all the right places, without pulling, puckering, drooping or cutting into your skin whatsoever. Essentially, it will feel like a second skin. If you're a busty gal (as in, you wear above a B cup), then it's a good idea to buy bikini tops that come in traditional bra sizes (band and cup sizes). These bikini tops are more likely to fit you flawlessly while offering the exact amount of support and coverage you need. That means you won't have to feel self-conscious about the bounce factor when you're running along the beach Baywatch-style. Plus, these types of tops tend to be more flattering, as they can offer lift and shaping, depending on the specific features and style. So, remember — it's not about what's trendy right now, it's about investing in stylish swimsuits that are well-suited to your specific needs.

Avoid comparisons
It's oh so easy to fall into the trap of comparing yourself to other women, particularly when bathing suit season rolls around. Once you become aware that you're doing it, though, you can stop that negative thought pattern right in its tracks. Next time you start comparing yourself to another lady in a swimsuit at your local pool or on your Instagram feed, consider this: could it be her confidence that makes her look so amazing in a bikini? And remember — it's common to get caught up in obsessing over what someone else has that you don't, whether it's long legs or a fuller bust. But the thing is, for every one of those traits, you have another that they don't — and whatever it is, it's uniquely beautiful.

Experiment with styles
These days, there are so many different bathing suit styles to choose from. So why not get out of your comfort zone and try something new? For example, if you always stick to one-pieces, consider one with cutouts or a monokini to shake things up. If you tend to shy away from bikinis, it's worth noting that there's a two-piece for every kind of figure — it's all about finding the right set to show off your assets. Curvy ladies look stunning in bikinis with high-waisted bottoms, because they show off your voluptuous hips and smaller waist. Women with athletic figures look amazing in bandeau and one-shoulder bikini tops, as well as tops with feminine ruffle accents. Keep experimenting until you figure out what works for you. Also, try to keep an open mind while you're trying things on. You may be surprised by which styles make you look — and feel — fabulous.

4. Build on the look
One thing that can help a lot is to think of your bathing suit as the base of an entire outfit, just as you would a dress or any other piece of clothing. You can accessorize a swimsuit with a cute beach bag, sandals, sunglasses, etc. and by making it your own, you're bound to feel more confident in your whole look. Wearing a cute pair of statement earrings instantly makes the most basic solid bikini look chicer. And a classic floppy beach hat gives a retro one-piece a certain elegance. Even a cute cover-up can make you feel less self-conscious.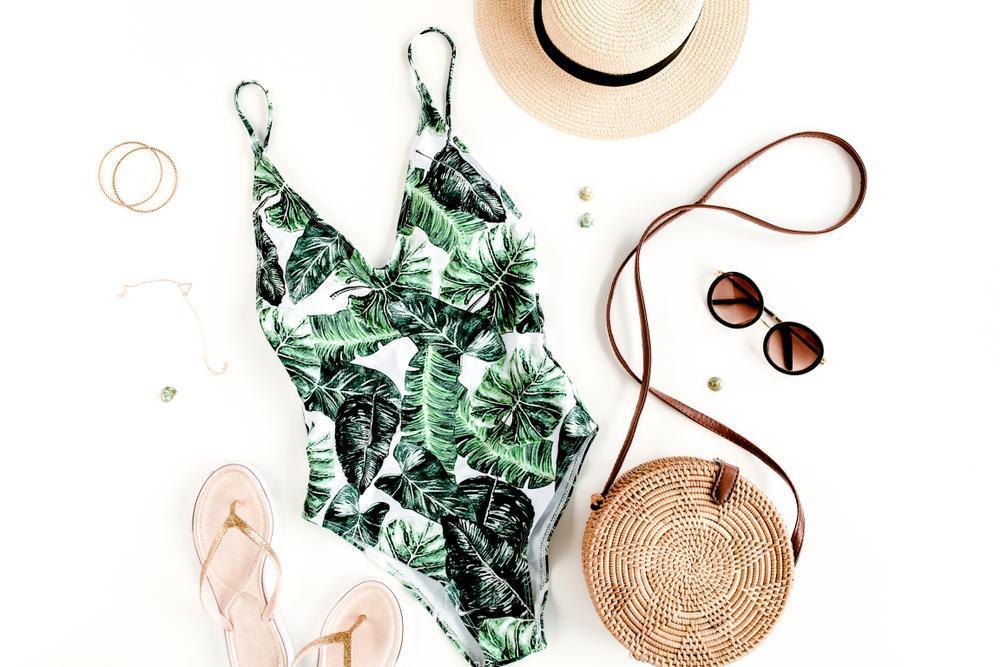 5. Do a test run
It goes without saying that the first time you put a bathing suit on may cause a bit of stress — after all, you've been covering up all winter long, and you're simply not used to showing so much skin. That's why it's a great idea to do a few test runs before you hit the beach. Wear your swimsuit while you're hanging around your house, and you'll start to get more and more comfortable wearing it. Plus, this will give you a chance to make sure it fits before you take the tags off. Wearing your bathing suit while you're making breakfast or folding laundry may feel a little weird at first, but it will help you to build up some much-needed confidence before it's time to make your public debut.

Basically, rather than thinking about achieving a "bikini body," it's all about focusing on achieving a bikini-ready mind. And when it doubt, you can always fake it till you make it. Hold your head up high and own the beach like it's your personal catwalk — even if you're feeling secretly self-conscious, the more you pretend to ooze confidence, the more it will actually sink in. Plus, you're bound to turn a few heads while you're strutting across the sand.