Transport yourself any day to a place where you might rather be, by having a cocktail named for some of the most beloved places in the U.S. and the world. How about a Manhatten or Cape Codder. Maybe a Long Island Ice Tea is more your style. Perhaps a Moscow Mule or a Milano-Torino is what you need. The European vacation feel can heal all. A refreshing cocktail can lift the spirits of anyone whose day was less than spectacular. Sipping a delicious cool cocktail is also the best to celebrate an awesome day.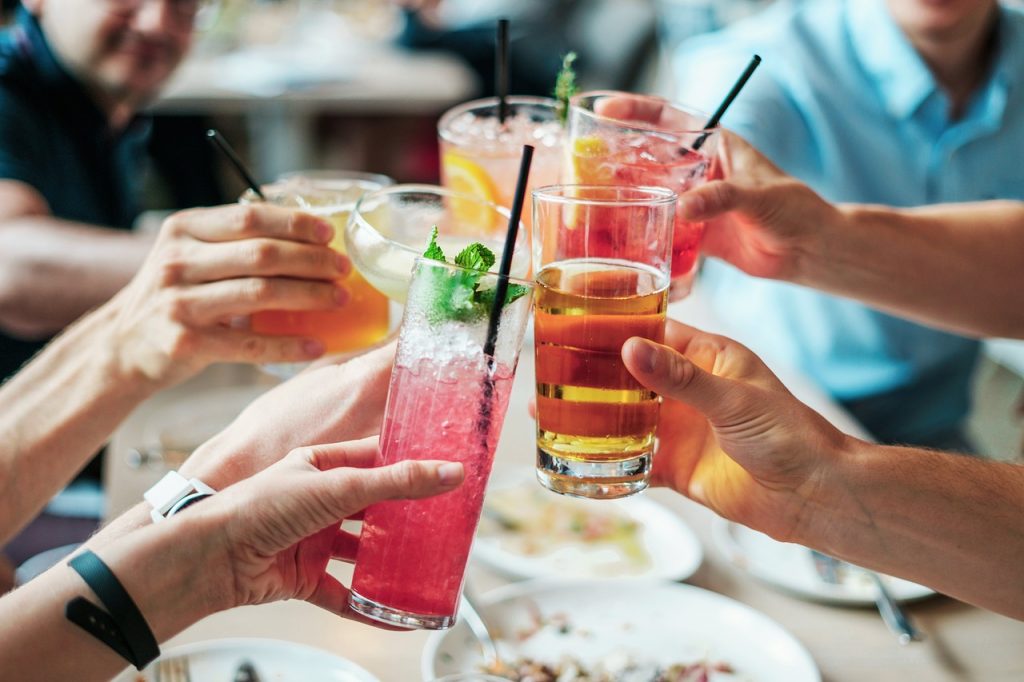 Making Fun Cocktails at Home
Making cocktails at home is great because you can make them how you want to. It is smart to look up recipes on the Internet for your favorite cocktail. You can start there and then adjust the recipe to how you would like it. You don't have to go crazy and buy so many ingredients. Buy the liquors that you love and your friends love. Good filtered-water ice cubes are important to keep the taste of your cocktails crisp. Don't forget the garnishments. Garnishing your cocktails is always an important part of making your drink special and delicious. You will also need a lovely set of glasses to fit the drinks you are mixing. A clean glass that fits the cocktail you are making is important for the whole bar scene effect.
Sugar-Free Cocktails
Since many people swear off sugar these days, there are plenty of sugar-free flavors you can use in your at-home cocktails. Sugar-free syrup is great to have around. Flavors like strawberry, almond, vanilla, and white chocolate are just some of the sugar-free flavors you can have in your house to make both cocktails and coffees taste delicious. You can even use the flavors in your cooking. Just a small amount of flavor can make a drink special and delicious.
Northern Lights Recipe
The beautiful northern lights light up the sky in spectacular color. Whether you have seen them on the ground or while riding in an airplane to one of your favorite travel destinations, this drink can take you back. You will also just want to drink it cause it looks so cool.
INGREDIENTS
3⁄4 oz. Monin Desert Pear® Syrup
3 ml Monin Blueberry Concentrated Flavor
1 1⁄4 oz. vodka or rum
5 oz. energy drink
cracked ice
3⁄4 oz. blue curacao
INSTRUCTIONS
Combine ingredients, except liquor, in serving glass.
Stir or shake to mix.
Float liquor on top.
Garnish.
Invite Your Friends For Cocktails
It is easy to get into the same beer and wine rut. Have some fun and throw a mixing party where people can bring their own ingredients. Everyone can make a drink to share with the guests. So many times people try drinks they don't like and then give up on ever having mixed drinks. By there being a choice among friends, everyone can save money from having to waste it at the bar. Party at home with some music and a safe environment. The kinds of drinks that can be made are endless. Make sure everyone makes drinks from a trusted recipe first before they decide to try to be a mixologist of their own making.
Cocktail Friendly Food
Drinking can be rather filling so having easy-to-eat food around is perfect when serving cocktails. Crostini, little Italian bread with different toppings, is a perfect food for cocktail hour. You can experiment with different toppings from spreadable cheese to bacon. Cheese of all kinds always goes great with cocktails. A spread of different kinds of crackers pairs with the cheese. Vegetables with dips, fruits, and seafood always work well with cocktail time.
Having cocktails at a bar can be fun. They are usually expensive and you might not always love what you get. Custom cocktails at home can be less expensive and much better. Making cocktails at home can help you order a better drink at a bar. When you have a catalog of drinks that you know you love, then you can never go wrong when you are thirsty for a delicious tasting cocktail.