Hi my great people! Ladders are found to be a quite attractive decor element for your home. You may repurpose your ladder thus creating a useful furniture that you will adore. You may use your ladder with two sides or you may cut it in one side and use only that one. There are numerous ways on how you can incorporate your ladder into your interior. Find the one that will match your needs in the following collection of Repurposed Ladder Decor Ideas That You Will Love.
Enjoy and stay cool!
The use of a wood ladder as a decorative bookshelf is quite adorable. It looks chic and stylish. This is not expensive idea that will catch everybody's attention.
If you are looking for a storage idea for your towels, magazines and other useful stuff for your bathroom, here is something awesome. Repurpose your old wood ladder into an incredible storage solution that you may incorporate in your bathroom. It looks rustic and homey. I love this decor and storage solution.
In the aim to create an open closet where you will put clothes racks where you will put many hangers, take a look at the above picture and get some inspiration. Repurpose your old wooden ladder into a horizontal clothes rack. Cut it in half and pant it in a nice bright color. You will get an authentic element that will be extremelly practical.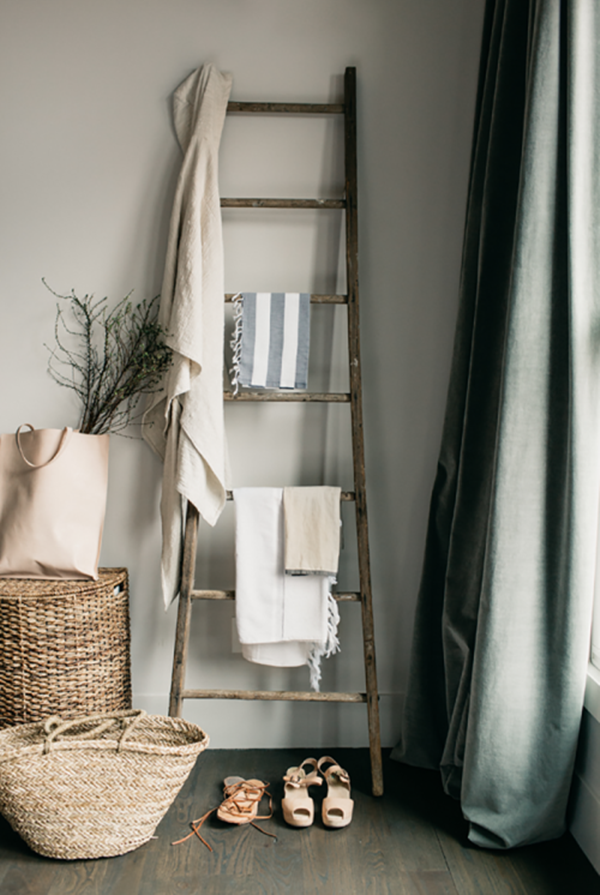 If you love plants and you want to have a little botanical kingdom in your home, you may use your old ladder for your creation. Take the following example and enjoy in the making.
Family photos are the warmest decor element for your home. Use your wood ladder and create a wall picture collage. Feel free to play with many different frames and even you may put a lighting solution. See the picture below and let it boost your creativity.
Here is another great use of of a wooden ladder. You may repurpose it as a floor lamp. This is how you may do it. Cut the ladder in half, put it in your wall and put many light bulbs on it. It is so simple, cost effective and adorable.
So, how did you find our ladder decor ideas for your home? Aren't they lovely? Which one is your favorite? Also, we made this collection to give you great ideas how to redecorate your dream home with something cool and creative. We want to hear from you. Feel free to share your comments with us. Thank you for reading and don't forget to stay up to date with the content of Feel It Cool and find many other great home decor ideas. Until our next post – 'Follow your heart and stay cool!'